Excel is a potent tool where we can maintain our data. Today, we would learn about how to hide or unhide the cell content or values in the worksheet. So let's begin learning.
Methods to Hide Cell Values
We have got two methods to hide the cell content in excel. We can hide the cell content in excel using either method. The cell contents are kept hidden whenever we have confidential information in our worksheet and do not want anyone to see that data. Hiding the cell content keeps the content hidden without actually deleting the content from the worksheet.
Even if the cell content is hidden, we can still see the content in the formula bar of the spreadsheet.
There are two methods to hide the cell contents.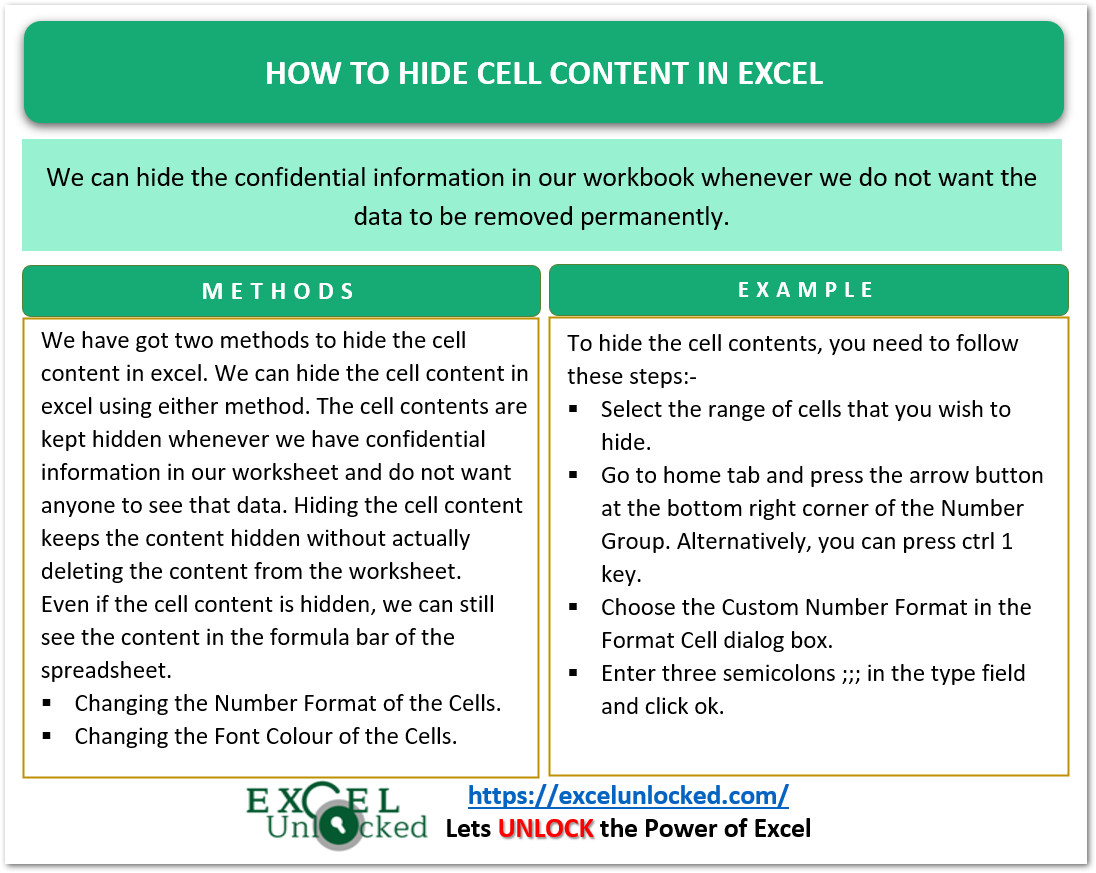 Method 1 – Hiding Cell Content – Custom Number Format
Let us suppose we have the employee database as follows.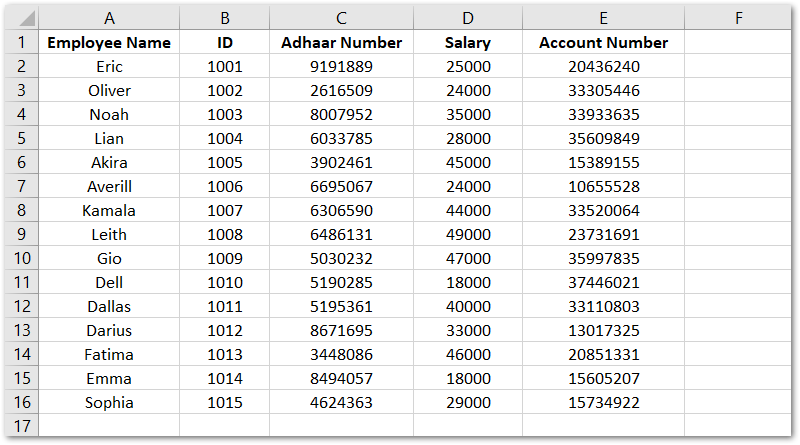 We want to hide the data in three columns including the Adhaar Number, Salary, and Account Number. To do this:-
Select the range of cells C1:E16.
Go to the Home tab on the ribbon. Click on the down arrow button at the bottom right corner of the number group. Alternatively, you can press Ctrl 1 keys together to get the same result.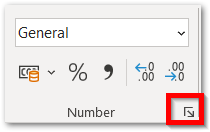 This opens the Format Cells Dialog box. In the Number tab, choose Custom Number Format and enter three semicolons ;;; in the type field.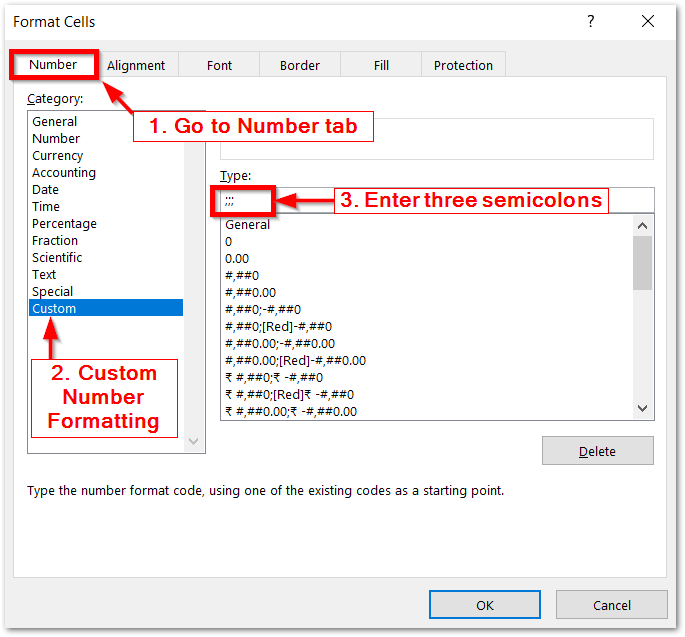 Adding three semicolons would hide the cell contents and once you click ok, this would apply the hidden cell content formatting to range C1:E16.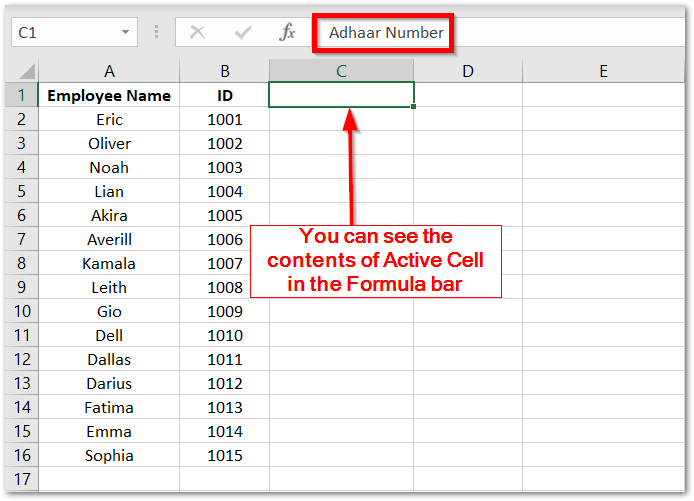 Unhiding Cell Contents
We can display the hidden cell content back by changing the number format of the cells to general. Let us suppose we want to display the Adhaar Number column then:-
Select the range C1:C16 that has the Adhar Numbers in hidden form.
Press Ctrl 1 key and set the number format from custom to general and click Ok.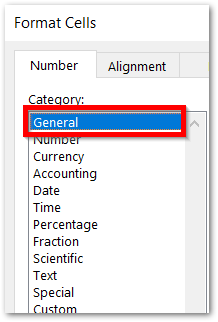 This would make the Adhar Number column to be visible back again.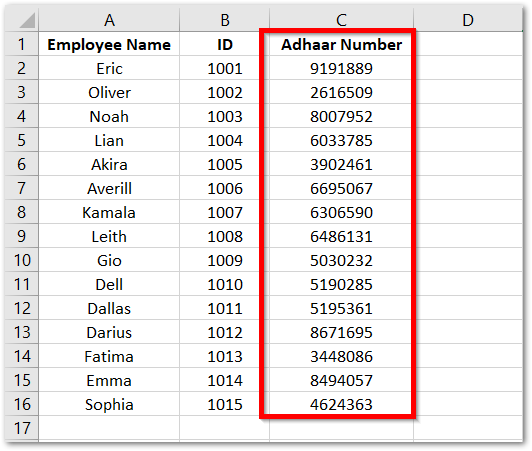 Method 2 – Hiding Cell Contents – Changing Font Color
We can hide the cell content by choosing the font color of the text to be the same as the background color. Here we have a white background, so we would hide the Adhaar Number column using the following steps:-
Select the range of cells C1:C16
Press the Alt H F C keys in a sequence. Then choose the Font Color of the text as White.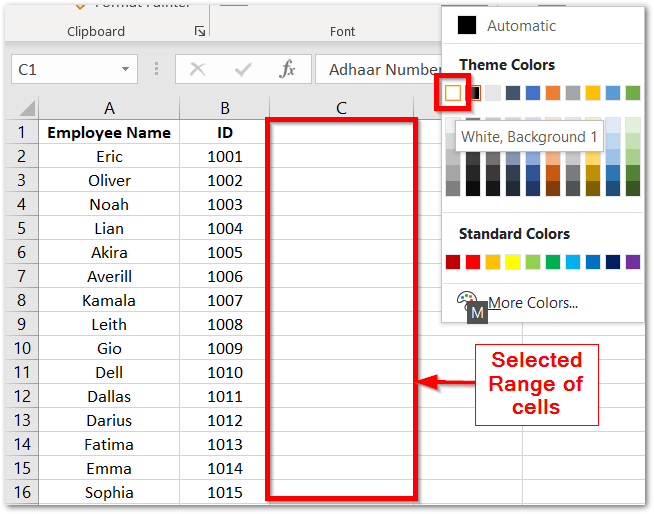 This method is also efficient in hiding the contents of the cell.
This brings us to an end. Thank you for reading.